In the first weeks of America's involvement in World War I, the Army decided it needed to raise a force of at least one million men. While that number was soon found to be much too small, the effort to recruit, house and train so many men turned out to be one of the war's great achievements.
In May 1917 the Army planned to raise sixteen divisions of draftees and sixteen divisions from an enlarged Army National Guard. Thirty-two new camps for these divisions needed to be built from scratch. In addition other camps for Artillery, Coastal Defense, Quartermaster Corps, Engineers, Transport, Signal Corps and an Infantry School needed to be built in the same time frame.
The schedule itself was punishing: Soldiers would appear on the doorstep of their new camps beginning on September 5, 1917. If all the camp sites were selected, contractors found, money and materials freed up, it still would have been an organizational miracle to see all these small cities built in three months.
But in most cases the Army had to do it in a month and a half.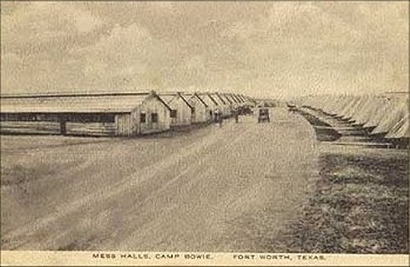 Camp Bowie
Nineteen National Guard training camps were to be built, and the Army decided to create tent cities for the Guard. The idea was, since the camps were to train one division and then close, resources would be diverted into the more permanent camps. Most of the Nineteen National Guard camps were built in the Southern or the Western department of the Army's command.
This meant that the relevant Departmental commander would choose where each small city of over 40,000 inhabitants would be built. A number of Texas cities as well as McAlester, Oklahoma were in the running for camps. Fort Worth Chamber of Commerce President Ben E. Keith and L. J. Wortham, President and Editor of the Fort Worth Star-Telegram led the charge for Cowtown.
Keith and Mayor W. D. Davis made the case for Fort Worth at Southern Department Headquarters in San Antonio in May and a delegation led by a Brigadier General made the trip to tour proposed sites. They were most impressed with the Arlington Heights district just west of downtown. Fort Worth was selected as the site for the Texas and Oklahoma National Guard camp on June 11th. It was to be named after Col. Jim Bowie, hero of the Alamo.

Rush to construction
It was now Fort Worth's turn to make good on its promises. Roads, utilities and a rail spur to camp were built by the city. Land, nearly 1,500 acres of it, was purchased by or donated to the city for Camp Bowie (Uncle Sam got the land free of charge). Buildings had to be relocated or demolished, water and sewer lines dug, cattle moved.
Most of all, building materials had to be found. With so many construction projects underway, the government had to organize these resources. The War Department created a Cantonment Division which would organize base construction during the war. It was a massive organization, with over 16,000 enlisted soldiers nationwide. Over 200,000 tradesmen and laborers would work on at least one site owned by the Cantonment Division during the war.
The Dallas construction firm of J. W. Thompson was contracted to build Camp Bowie. The contractor was chosen for his ability to take on such a project as well as his ability to get credit; short term costs were steep. The Army managed the payroll of all laborers as well as reimbursing the cost of materials.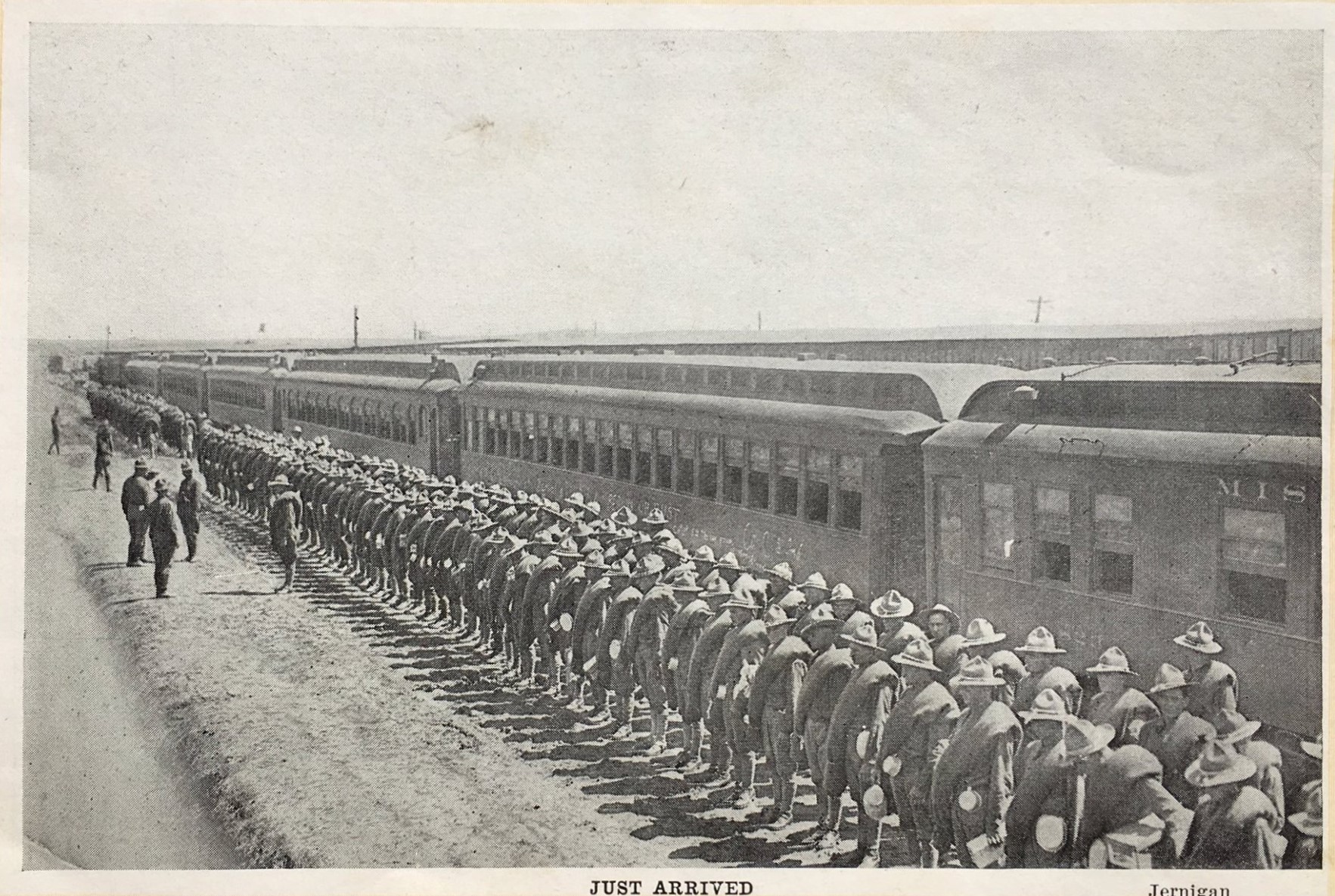 Building Camp Bowie
On July 18, 1917 officers from the Cantonment Division reported in Fort Worth for duty and the contract with the builder was signed. Construction on Camp Bowie was about to begin. On July 23 the Quartermaster's Office was established and on July 25 the timekeeper's office was built.
3,500 craftsmen and laborers joined to build a city that would house over 41,000 soldiers. They built roads, strung electric wire and put up hundreds of buildings. Most of the soldiers would sleep in tents, but there were bathhouses, mess halls, laundry shacks and 300 kitchens.
A spur of the Texas & Pacific Railroad went by the Quartermaster's. There were stables and barns for horses of Texas' 1st Cavalry Regiment, who would make their home in Camp Bowie. The Northern Texas Traction Company spent $125,000 (in 1917 dollars) to extend the Fort Worth Streetcar line through camp, adding or improving twelve stops.
Forty miles of roads were built in the hot summer sun. Water tanks were built and pipes were laid. Refrigeration units for food were installed. By August 21, 900 wooden buildings were constructed. A telephone exchange was built. A stockade was built near the Military Police barracks.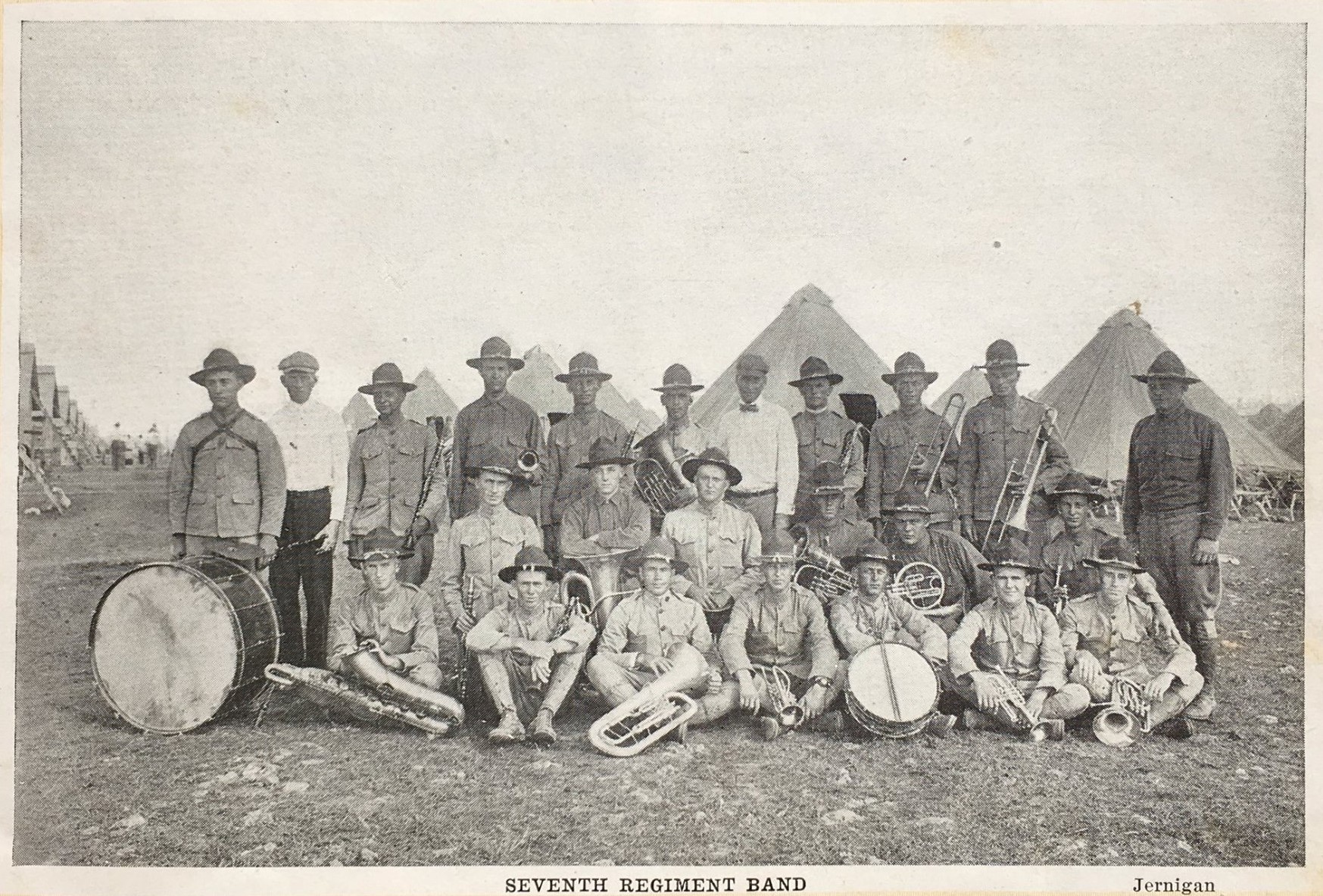 Will it ever be done?
On September 6th, Amarillo's Company A, 7th Texas Infantry had arrived in Fort Worth on the same train as  Company B of Clarendon and Company C of Childress. By September 11, 1917 all of the Seventh Texas infantry Regiment was at Camp Bowie. The Seventh Texas was one of many Infantry, Artillery, Cavalry, Engineer, Ambulance, Transportation and Signal units gathered at Camp Bowie. Most of them would form the 36th Infantry Division.
Camp Bowie was far from finished. Water pipes and electrical wires had just been introduced to the camp. The hospital, which would include 300 buildings, was only begun on August 27. The rifle range had just been started. No hurry; rifles had not yet arrived at Camp Bowie. The artillery range was still in the planning stage.
Like most cities, Camp Bowie was constantly changing in size and appearance. The staff of the Cantonment Division left in November 1917. Engineers in the 36th Division declared the camp substantially finished on December 2nd, with the Camp Hospital still under construction. By July 1918, Camp Bowie had grown to 3,000 buildings and had cost the Army $3.4 million in 1917 dollars.