The Seventh Texas Infantry gathered for the first time at Camp Bowie in Fort Worth Texas in September 1917. Up to that time the regiment existed as its individual parts: fifteen separate companies from communities in north Texas and the panhandle. When roughly 1,900 men of the Seventh Texas arrived in Fort Worth, they were organized like this:
7th Texas Infantry Regiment
Headquarters Company, Crowell
Company A, Amarillo
Company B, Clarendon
Company C, Childress
Company D, Quanah
Company E, Vernon
Company F, Wichita Falls
Company G, Wichita Falls
Company H, Decatur
Company I, Abilene
Machine Gun Company, Gainesville
Company K, Fort Worth
Company L, Cleburne
Company M, Denton
Supply Company, Lubbock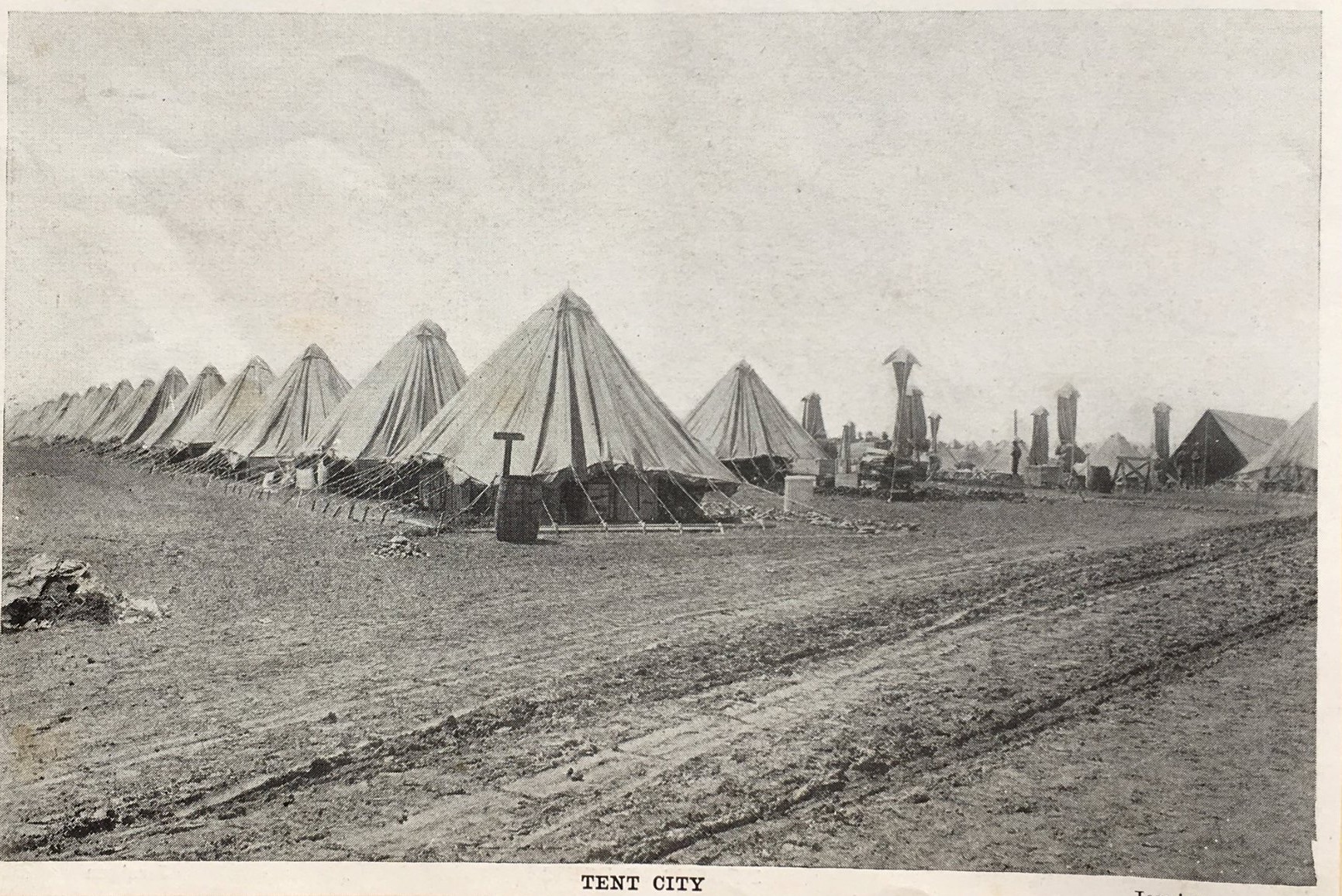 At Camp Bowie
The basic fighting unit of the American Army in World War I was the Infantry Regiment, and the Seventh Texas is an example. From the turn of the Twentieth Century US Army Infantry Regiments had twelve companies plus a Headquarters detachment of sixty or so men. By the beginning of World War I, a Machine Gun Company and a Supply Company had been added  and the Headquarters enlarged. Infantry Regiments in the beginning of the war had fifteen companies and anywhere from 1,550 to 1,850 men and were commanded by a colonel.
The Seventh Texas Infantry arrived with seven other Infantry Regiments at Camp Bowie plus Artillery and Cavalry regiments, Engineers, Supply Train, Military Police, Headquarters, Ambulance, Hospital and Field Signal units. Overnight Camp Bowie became a city of over 41,000 soldiers.
Getting the whole place organized was a monumental task. Many of the soldiers arriving at Camp Bowie had no uniforms. Some companies had received uniforms while at home, but many arrived with few or none in uniform. Companies camped as a unit within their regiment in cylindrical canvas tents that were designed to house eight soldiers.
Soldiers were given their uniforms plus bedding and mess kits. Rifles would have to wait; although a shipment came in October. (It would be 1918 by the time every rifleman had his own rifle.) Each company had its own "street" in the regimental campsite, with a line of tents that led to a long, narrow mess hall and a separate kitchen.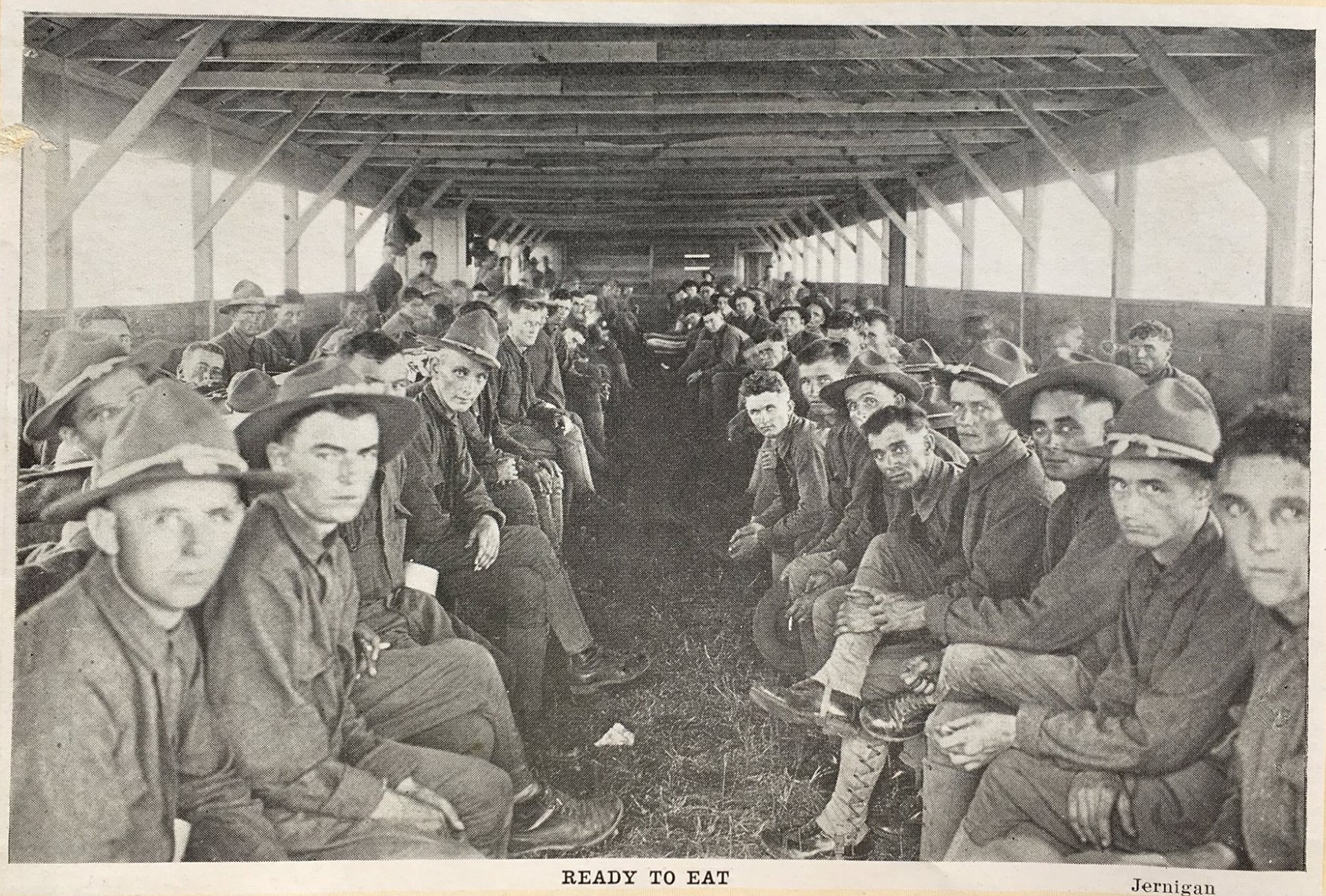 Life the Army Way
Even without the rifles, soldiers at Camp Bowie had plenty to keep them occupied. First was securing their tents and bedding. Then the men had to draw their uniforms and equipment. This was harder because, well, it was the Army, and sometimes uniforms were sent to the wrong unit. While each company had a cook, the men all rotated through duty as the kitchen staff, or K.P.
But what the men remembered most about their time at Camp Bowie was the constant drilling; practicing military formation and movement. Most days included seven or eight hours of drilling. As time went on drill became more involved in simulated combat such as grenade throwing, bayonet practice and digging in; lots of digging.
Soldiers at Camp Bowie were also learning about the kind of war going on in Europe: digging and fighting from trenches, working with barbed wire. They learned how to work in larger formations using signal flags and field telephones. Then they practiced cutting through wire entanglements and raiding trenches. Of course they practiced on the rifle range and did a lot of marching.
Within a few weeks after arriving at Camp Bowie, the men got their physicals. For most it meant getting vaccinations, but for some it was a ticket out of the Army. The exams were more stringent perhaps than what was carried out back home, and every company lost some men to a SCD (Surgeon's Certificate of Disability, or failed physical).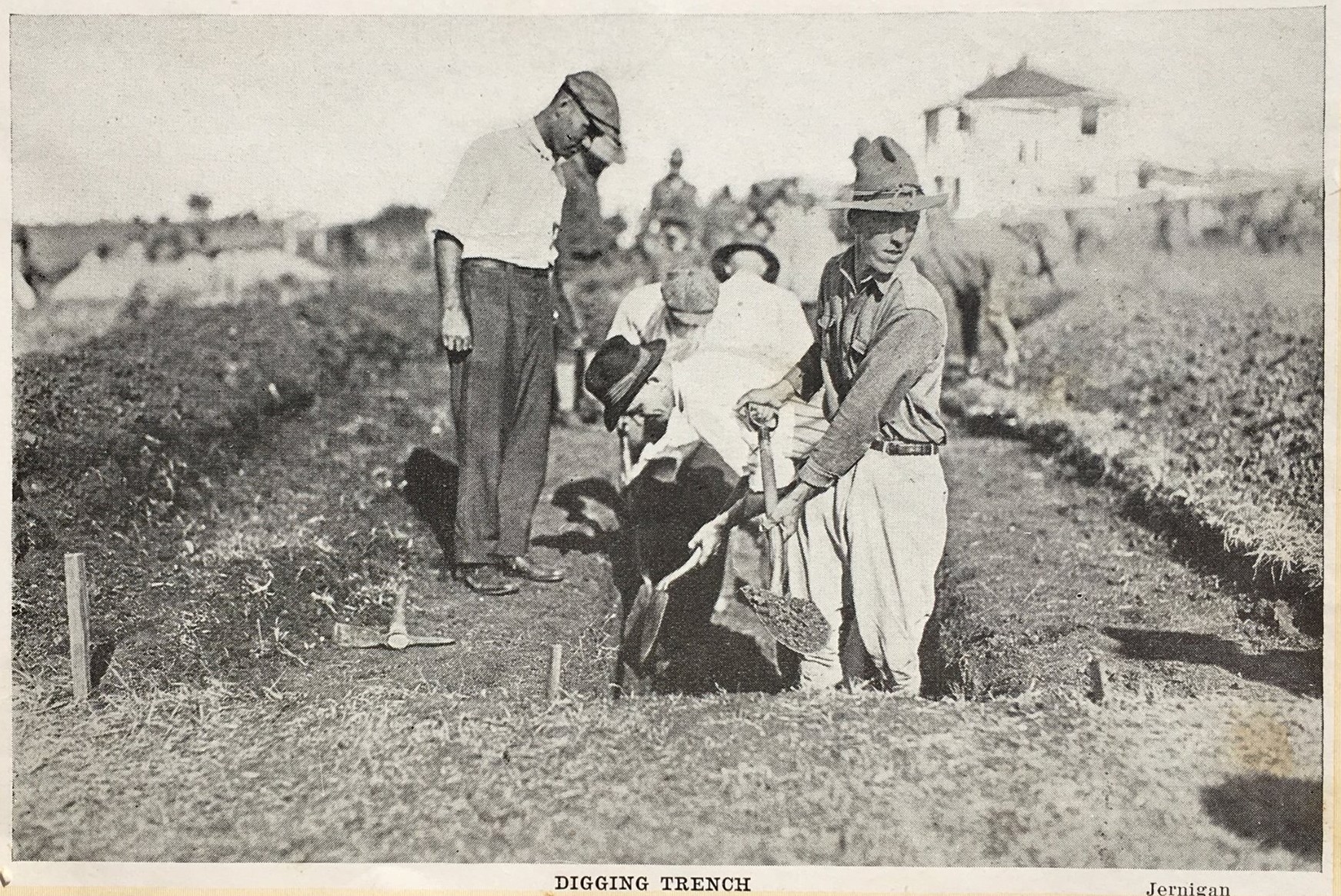 Consolidation
The loss of some men for medical or other reasons (some recruits turned out to be just too young to be in the Army) dimmed the feeling of cohesion achieved during the summer of '17. A bigger surprise lay ahead. Toward the end of September most of the units in Camp Bowie learned they would merge with another unit to reach war strength.
For the Seventh Texas, it meant merging with the only infantry regiment from out of state, the First Oklahoma. The First Oklahoma Infantry was founded a generation earlier, during the Spanish American War. It served in San Benito and Donna, Texas for nine months during the crisis with Mexico and many of the men were experienced.
The reason for the mergers was that General Pershing's headquarters in France wanted bigger divisions: divisions that would be able to sustain themselves in combat without waiting for reinforcements. Pershing's new divisions were designed to be more self-sufficient, with artillery and transport troops to project force in battle.
But it wasn't just about superior firepower and mobility; war in the trenches of Europe was costly and fighting units would have to be larger to absorb the losses on the battlefield.

A new regiment
Infantry regiments in the US Army at the beginning of the war had about 1,550 men in fifteen companies. The new organization more than doubled that, to 3,720 men. As a result, companies were enlarged from about 150 men to 256 men. An ambulance unit was also added, as well as other services.
News of consolidation came as shock to both sides of the merger. As it turned out, the Oklahoma soldiers felt they were losing more of their state identity in this sea of Texans. Both units felt they had the right to complain, as they enlisted as Guardsmen in state organizations only recently federalized.
But as members of the Army, the men came to understand that an order is an order. The 142nd Infantry Regiment, created in August, really came into being on September 23, 1917. In time the unit would benefit from the differences the two units brought to the merger. The new regiment was organized like this:
142nd Infantry Regiment
New Name
Drawn from
Headquarters Co. 142nd
Co. I, Abilene, Texas
Headquarters Co. Crowell, Texas
Headquarters Co. Oklahoma City
Machine Gun Co. 142nd
Machine Gun Co. Gainesville, Texas
Supply Co., 142nd
Supply Co. Wewoka, Oklahoma
Supply Co. Lubbock, Texas
Medical Detachment, 142nd
Medical Detachment, 1st Oklahoma
Medical Detachment, 7th Texas
Company A 142nd
Company A, Clinton, Oklahoma
Company K, Enid, Oklahoma
Company B 142nd
Company B, Chandler, Oklahoma
Company D, Newkirk, Oklahoma
Company C 142nd
Company C, Tulsa, Oklahoma
Company E, Pawnee, Oklahoma
Company D 142nd
Company F, Muskogee, Oklahoma
Company I, Stillwater, Oklahoma
Company E 142nd
Company H, Durant, Oklahoma
Company L, Antlers, Oklahoma
Company F 142nd
Company G, Wewoka, Oklahoma
Company M, Oklahoma City
Company G 142nd
Company A, Amarillo, Texas
Company C, Childress, Texas
Company H 142nd
Company B, Clarendon, Texas
Company D, Quanah, Texas
Company I 142nd
Company E, Vernon, Texas
and surplus of the regiment
Company K 142nd
Company F, Wichita Falls, Texas
Company G, Wichita Falls, Texas
Company L 142nd
Company H, Decatur, Texas
Company L, Cleburne, Texas
Company M 142nd
Company K, Fort Worth, Texas
Company M, Denton, Texas