To win the European war, AEF General John J. Pershing and his staff wanted thirty infantry divisions in France by 1919. By the beginning of 1918, there were four complete divisions and part of a fifth already in France. Over one million men had been training stateside since September 1917 in camps across the country.
What was keeping them there was the shortage of ships and equipment. Ships available to the United States were in short supply throughout the war. Several were sunk by German U-boats. A great number of American troops crossed the Atlantic in British ships as a result. But there were always more men to transport than spaces for them on transport ships.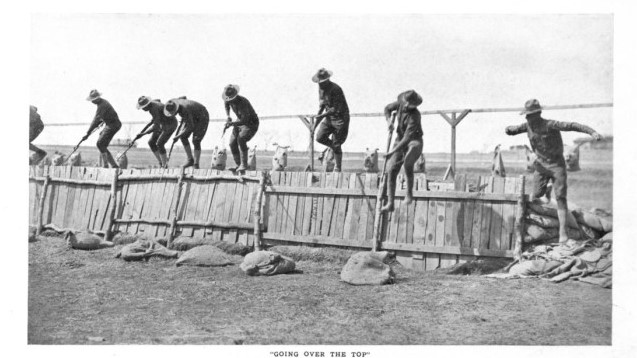 American Industry catches up
The other issue was the supply of arms and equipment. The War Department performed a massive manpower effort in 1917 recruiting and drafting an army for General Pershing. It would do so again in two 1918 drafts as well. Now that the men were in training, they needed weapons and equipment.
American troops went to war with some of the best weapons of any army including the M1903 Springfield rifle and the Browning Automatic Rifle, versions of which are in use today. As with blankets and overcoats, the military's problem was getting arms into the hands of recruits for training.
To address the issue of retooling the economy for war, President Wilson created the War Industries Board to direct production and allocate resources for American industry. In December 1917 Wilson also nationalized America's railroads. The U. S. Railroad Administration coordinated the movement of men and materiel across the continent until March, 1920.
The effort to send the whole economy to war produced far-reaching results, including high employment and better real wages for American workers while the war lasted. But the costs would define the country's economy up through the Great Depression. Sending the AEF to Europe cost the American economy between $20 and $31.2 billion 1917 US Dollars ($375 to $614.2 billion 2018 US dollars. See here for more about the wartime economy).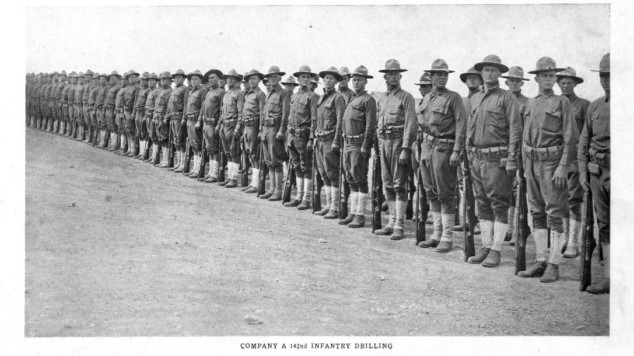 Camp Bowie prepares for war
While there were thousands of rifles at Camp Bowie in 1917, most were used for instruction and big training exercises. There were not enough rifles for each rifleman until June, 1918. The 36th Infantry Division had only a half-dozen cannon well into 1918.  So Camp Bowie built rifle ranges and a trench system while it waited. The trench system was ten miles long and had mortar pits, machine gun ports and bomb shelters. It was big enough to train one regiment against another in simulated combat.
While it was waiting for its artillery pieces, Camp Bowie also built an artillery range for its 131st, 132nd and 133rd Field Artillery Regiments. It was located near Weatherford, Texas just west of Camp Bowie. In April the 36th Infantry Division received more artillery, plus motor trucks, machine guns, mortars and ammunition.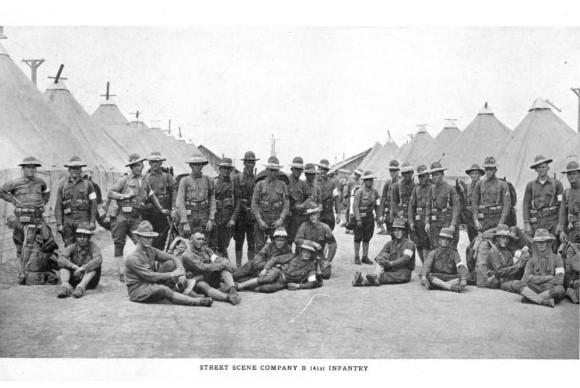 "Accident!"
During a live-fire demonstration in front of the Division Commander, tragedy struck. Mortar teams of the 141st and 142nd Infantry Regiments were practicing on May 8, 1918, when a round exploded while firing. Eleven men were killed and six wounded. The cause was never determined, although the two mortar teams had been practicing for hours that day.
Many of the casualties were from Headquarters Company, 142nd Infantry Regiment. Four of the dead, including First Lieutenant Allen McDavid, and three of the wounded were all from Taylor County's Company I. Lt. McDavid had personally recruited many of the men in the old Company I.
As funerals were held for the dead in Abilene and elsewhere in Texas, communities were reminded that for some the sacrifice to country would be in the extreme.